Barn Name: Whizzer
Reg#: PA1770348
Breed: Purebred French Alpine
DOB: 3/9/16
Color: Light two-tone chamoise
ADGA Genetics pedigree
Linear Appraisal
2017 01-6: V+V 86
Whizzer is my attempt to bring at some popular show genetics and type, without compromising production. His dam,
SG Sunrising RZ Wyvalliea 2*M
easily earned her SG status on her first lactation. As a 2 year old she scored EEVE 90. Her milk test data is slightly skewed negatively due to being milked 1x per day or dried up after kids are weaned and if she is not on the show string. Quality of life for the herd owner is important and doesn't always include milking. :)
His full sister from 2015, Sunrising Charmer Wyvee, was 3rd place Jr yearling at 2016 ADGA Nationals. His littermate sister, Sunrising Charmer Wyvee Too was a Coloroma sale kid at 2016 nationals. See her picture for the sale
HERE (link to facebook picture)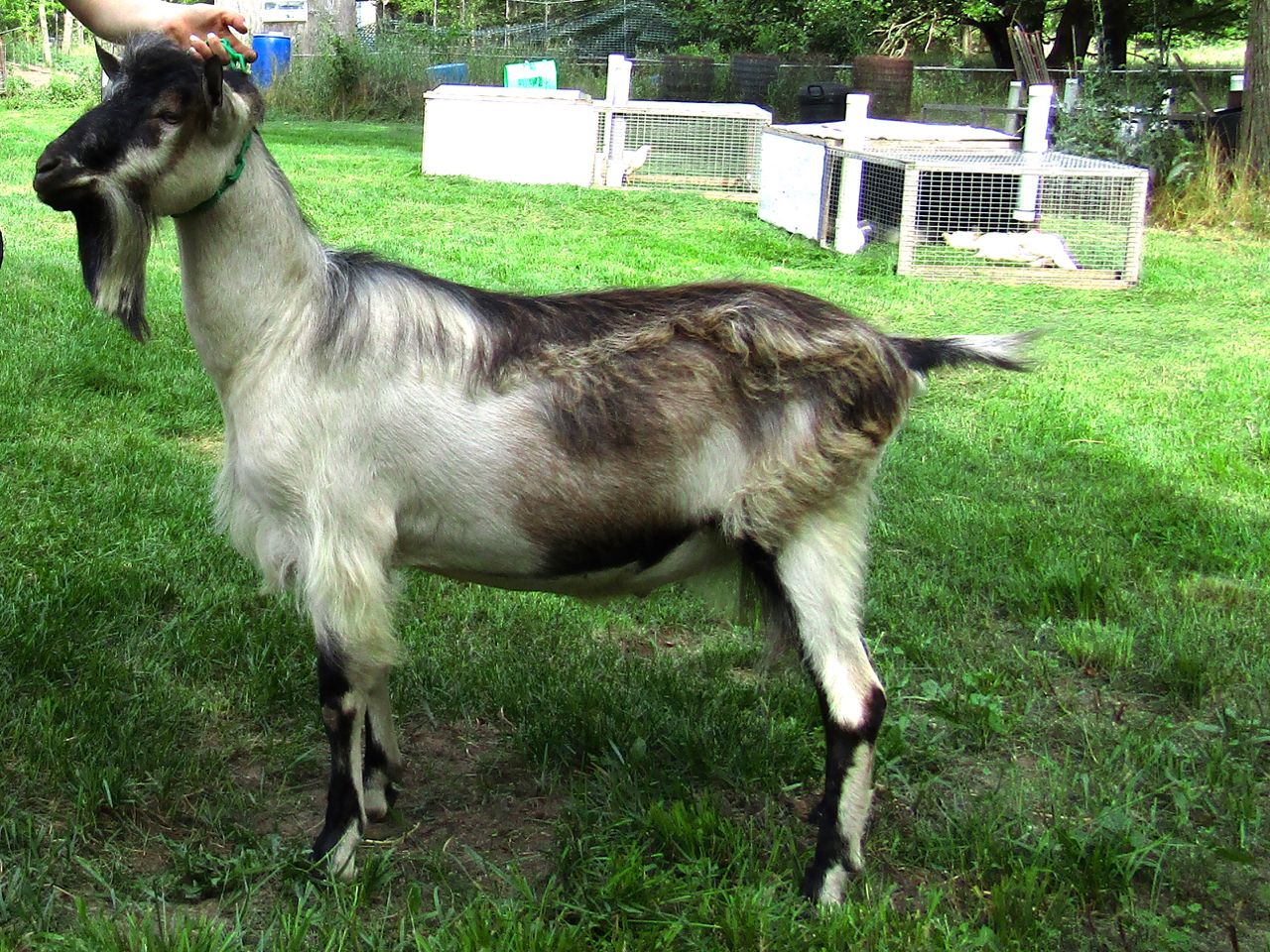 7/22/17, 1yr 4 mon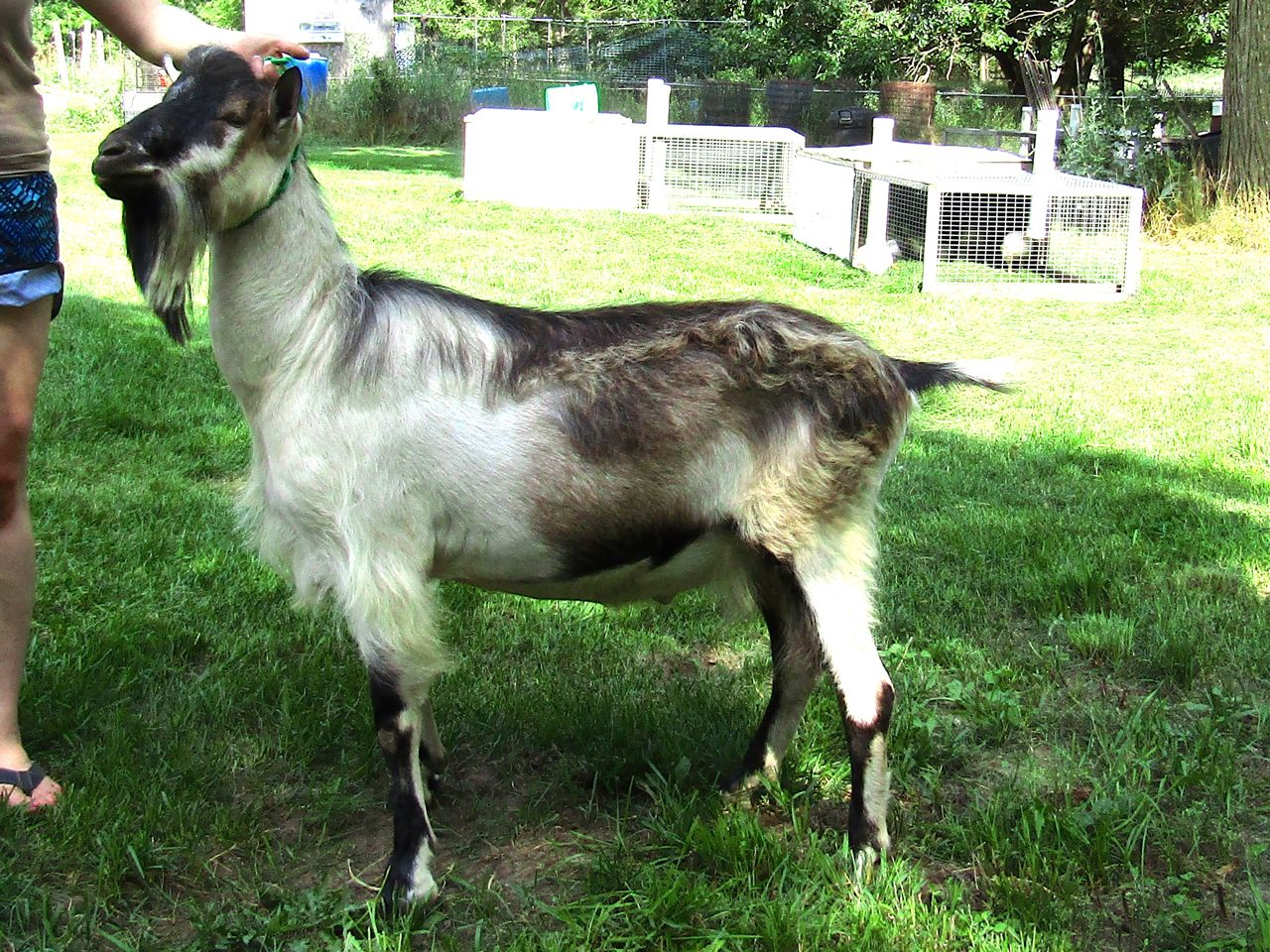 7/22/17, 1 yr 4 mon
March 2017, 1 yr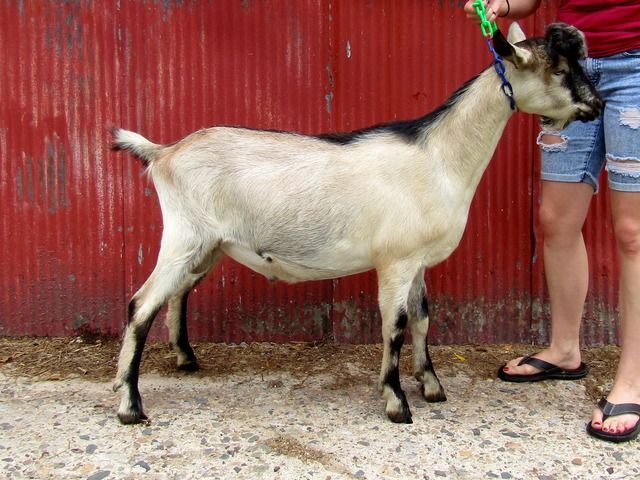 8/14/16, please excuse my poor posing skills. :) 5 mon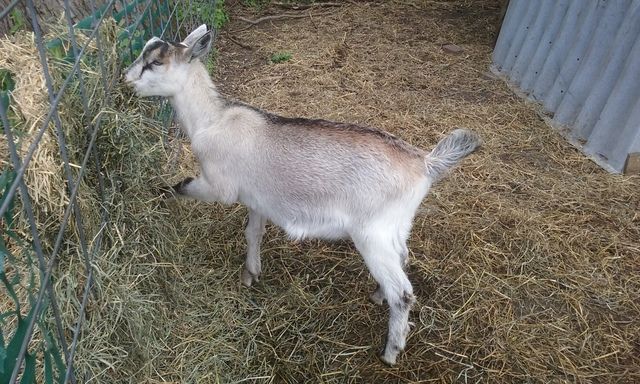 5/15/16, 2 mon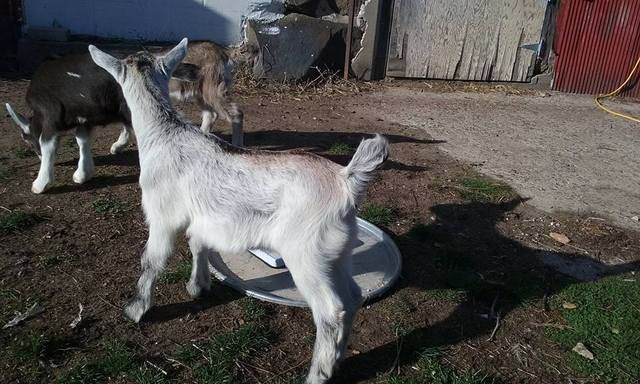 Sorry for the cruddy pictures - he's a pretty active, bouncy fellow so rather hard to photograph with my crappy cell phone camera. ;)
Performance pedigree:
(sorry if this is a little hard to read, see ADGA's Prescription Reports option for better resolution. ;)
Sire is
GCH Windrush Farms IRS Charmer +*B
owned by Sunrise Farm in NC. Two-time Premier sire (2014, 2016), 4 GCH daughters, 1 CH daughter. He's also a 2nd generation premier sire, with his father Sheriff also having this honor.

He has 9 dau on test, avg # of lactations on test is 1.35, and they have a respectable average of 2271lbs, 89lbs fat, 72lbs prot (this is PRIOR 2016 production eval data!)
20 daughters with 30 appraisals collectively : Avg LA score: 85.4.
Dam:
SG Sunrising RZ Wyvallia 2*M
01-03 VV+V 86
Beautiful pictured below as a FF, I got to see her as a newly fresh 2YO when I picked up Whizzer and I think she's only gotten better with another freshening. Her yearling FF linear score is quite respectable. She easily earned her SG as a yearling, and she looks to have a productive career ahead of her if you consider her dam's production and her sire's influence. Will be interesting to see the DHIR info as she progresses through the lactation. She placed 7th in class as Jr at ADGA Natl show, shown only once as FF and placed 1st.
UPDATE: Wyvallia's 2016 LA score as a 2nd fresh 2 year old is 90 EEVE! She seems to be producing well again this year and her production can be found here:
Wyvallia DHIR information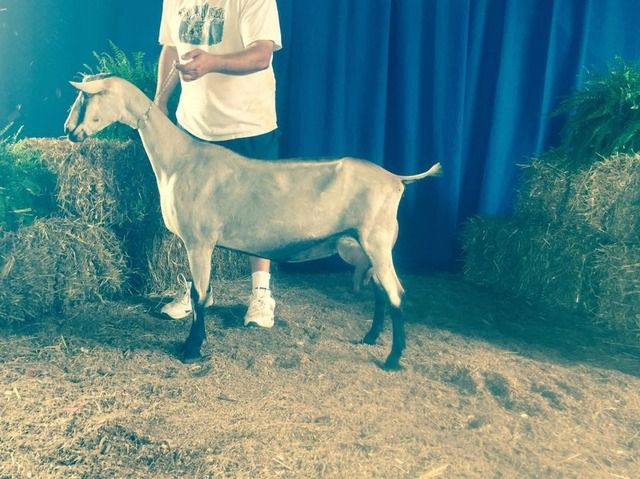 1yo FF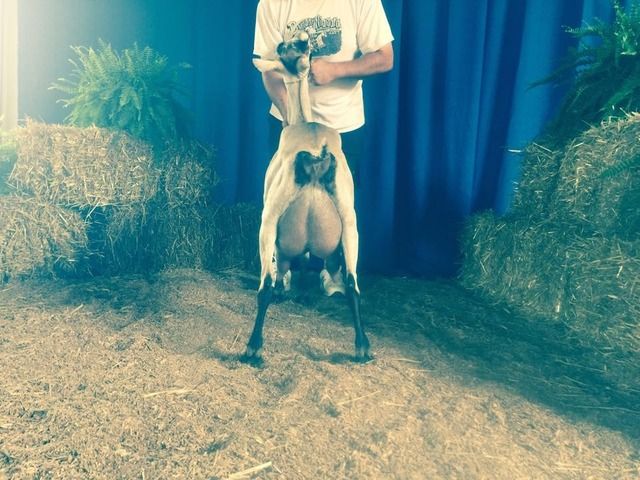 1yo FF
2yo 2nd fresh @ 2016 ADGA natls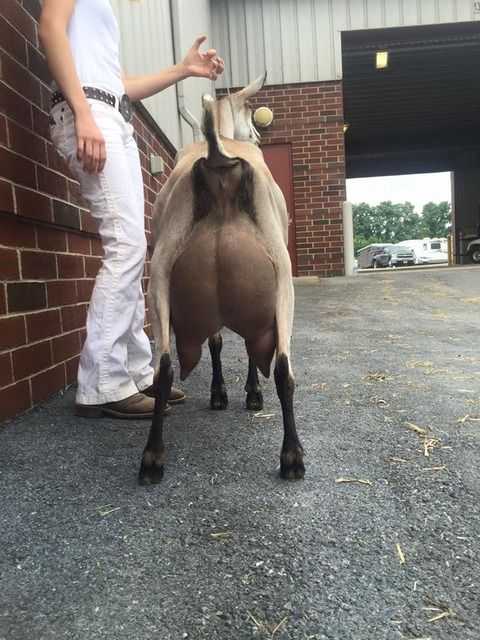 2yo 2nd fresh @ 2016 ADGA natls