Barn name: Ellie

Reg#: PA1669791
DOB: 3/3/14
Book: Purebred
Color: Chamoisee with brown/cream trim; Wattles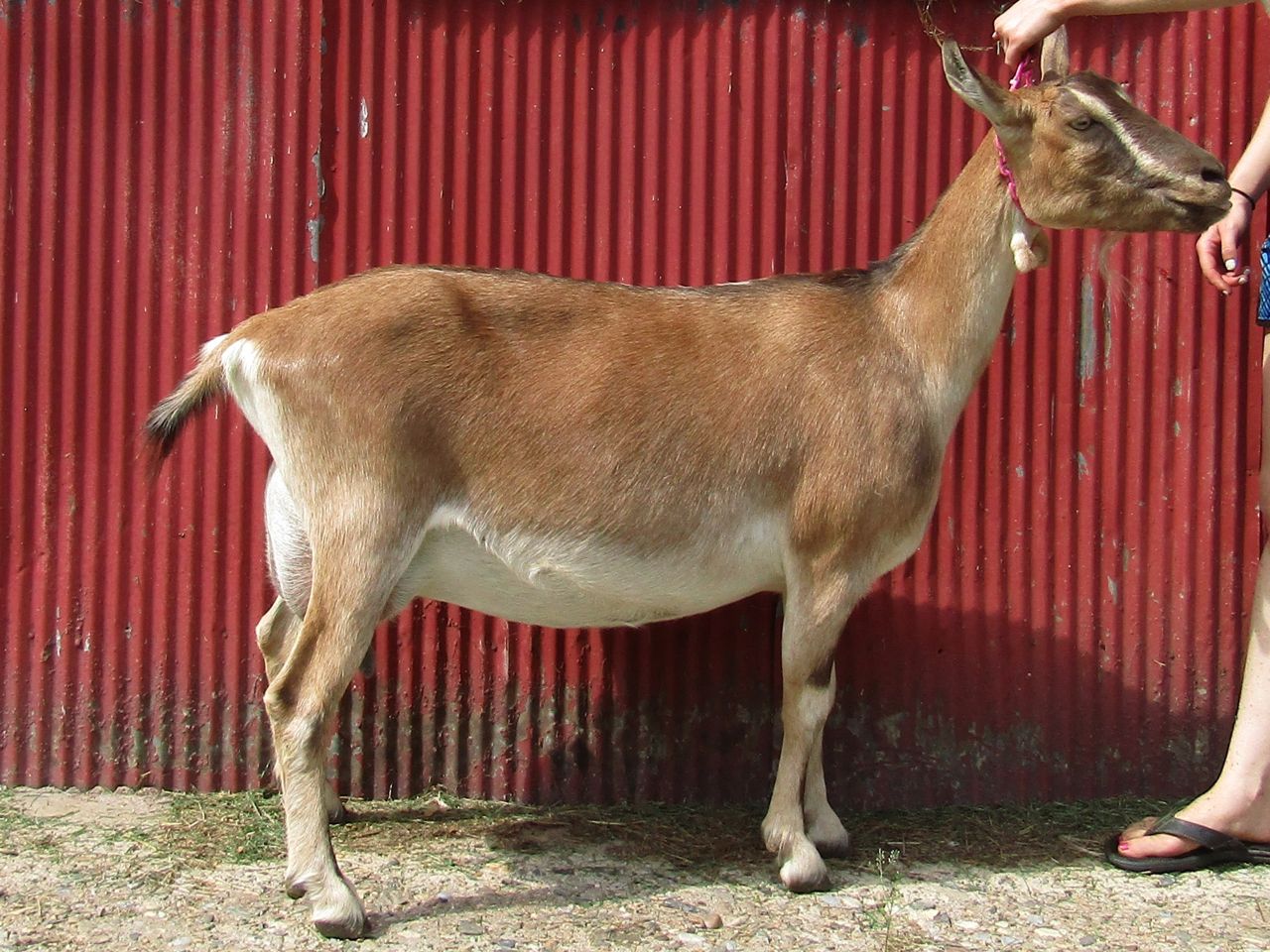 7-22-17, 4 months into her 3 yo 3rd lactation. Only 6hrs of milk or so in that udder in this picture.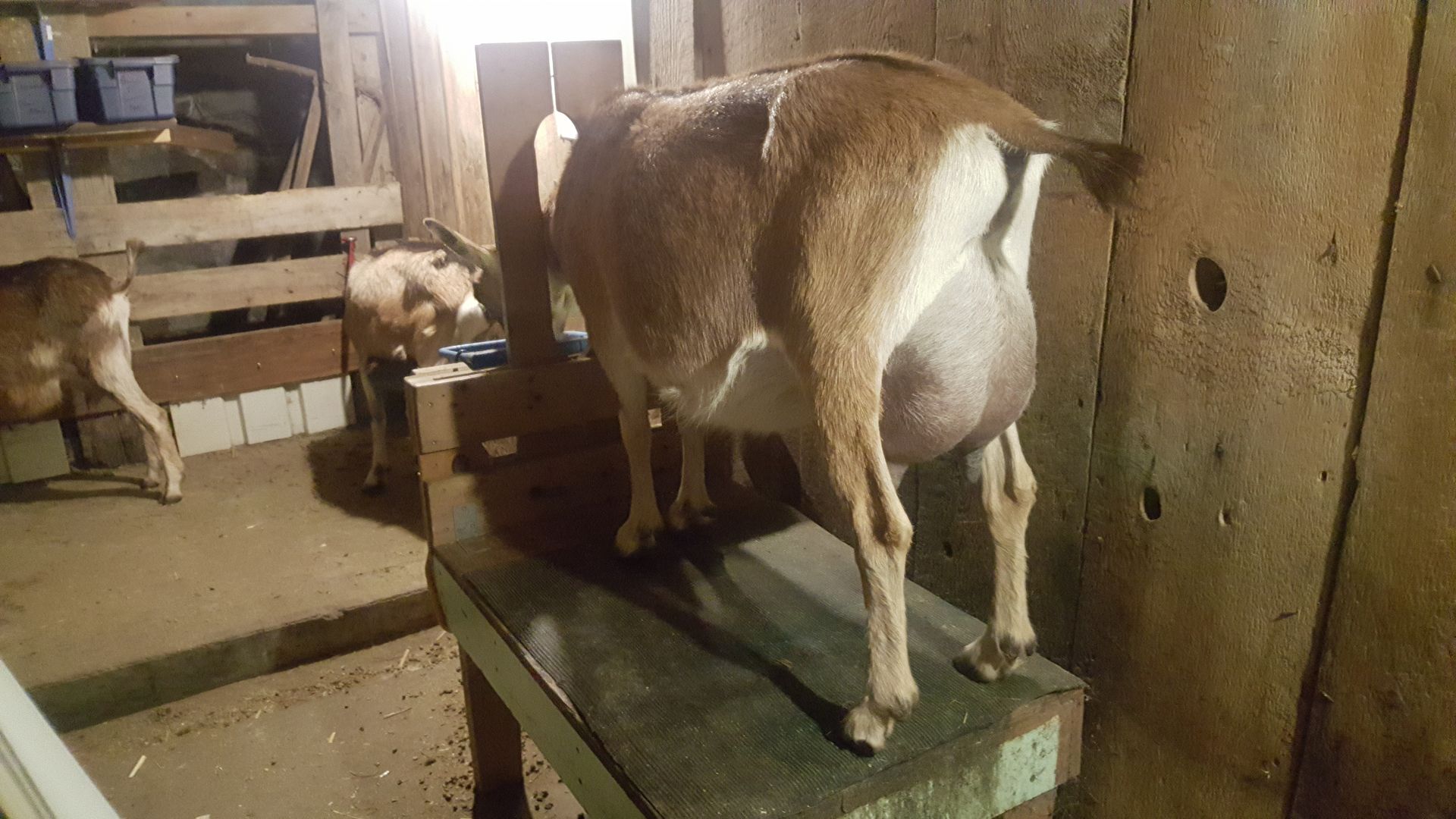 2017 - 2nd test date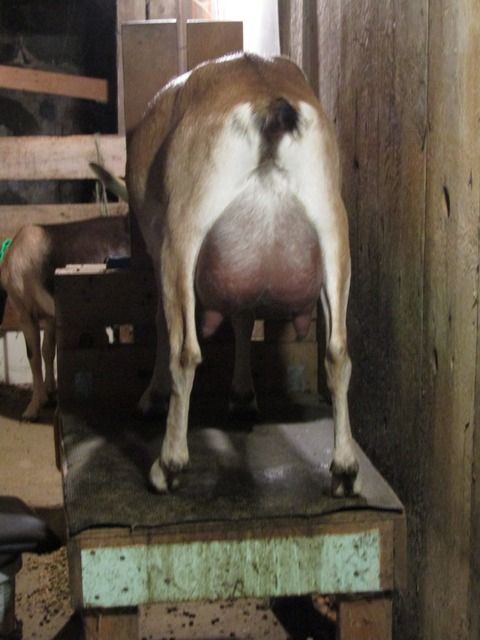 2016 lactation; not sure on exact date. ;)
6-6-16, 2 yo, 2nd freshening. 3 mon fresh.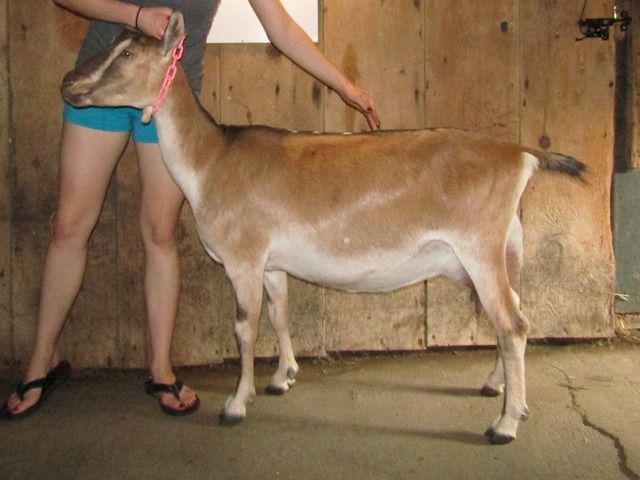 8/13/16, 2yo 2nd fresh, 5 months fresh.
Only ~5 hours of fill in that udder. See above for pictures at 12 hrs of milk. ;)
--------------------------

Pedigree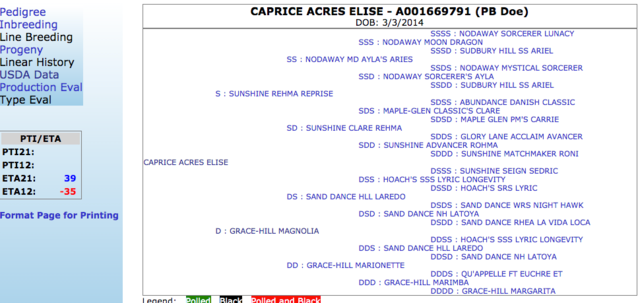 --------------------------


2014 YS: ++V, overall +
2016 02-03 VVEV 87 (2YO 2nd fresh). E in rump
2017 03-06 VVEE 90 (3yo 3rd fresh). E's in head, rear legs, and back
--------------------------
I am very pleased with the potential of this young girl. I would have loved to see a stronger lactation on a FF as she hit only 6.5lbs/day before we further impacted her lactation by going to 1x per day milking for 2 weeks, before her 3rd test - causing her to decrease by a pound between tests. :/ Her mammary is high in the rear and smooth in the fore, I can't wait to see this mammary develop next year and am hoping for a stronger lactation that her genetics seem to promise. :)
Kidded 3/21/15 with a single doeling - Sold - Caprice Acres Adelise

Kidded 3/8/16 with 1B/1D twins. Sired AI by Tempo Aquila Danziger - LOVED THEM. Caprice Acres Tertia is the doeling. Buckling was wethered. Likely due to the lavender gene, the handsome little buck born sundgau clearly was turning brown/white (togg marked) when he was like 2 months old - a major fault in male alpines. Opted to wether him instead of sell.
Kidded 3/17/17 - B/D twins - Retained doeling - Name pending! Buckling survived about a day and a half, progressively lost appetite and had a distended appetite. Discovered a complete atresia between ileum and jejunum on necropsy.
--------------------------

Breeding Plans
Elise is exposed to Sunrising Charmer Weizenbock *B for 2018 March kids!
--------------------------
2016
Milk Fat Prot SCS
2360 95 75 4.00
Elise has easily met her requirements for her star on her 2016 lactation in total pounds of milk, fat, and protein. I have high expectations for this girls' production.

--------------------------

She was the only doe to freshen in 2015 unfortunately, and for decreasing our chores we attempted to dry her up at the beginning of June. She dropped in production but then held on, so after 2 weeks of milking once per day, we decided to go back to 2x per day and continue her lactation. That is the reason for the drop from the May to June tests (TESTS 2-3). We're hoping to milk her for a few more months, but we dried her early so my dad could easily go on his yearly vacation. her cruddy lactation is mostly due to muddling humans. ;)

2016 brought a better season for Ellie with less factors against her. She will be one to keep your eyes on as she matures.