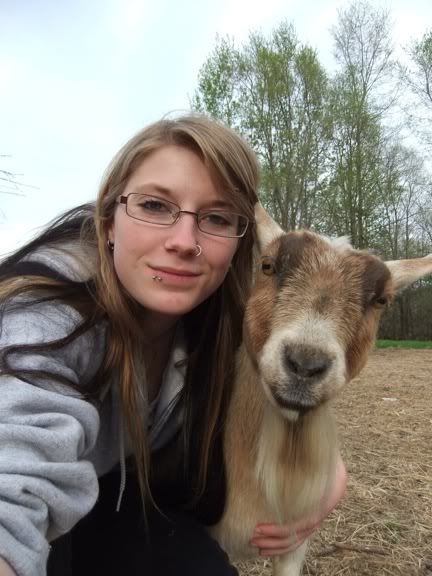 Proud member of ADGA PLUS
LA -- DHIR -- DNA
We maintain a CAE and Johnes NEGATIVE herd. We test yearly in the fall. Foundation and incoming stock are tested multiple times for CL (before/after isolation period) and the herd is abscess free. For more information about our biosecurity protocols and past test results, please see the Biosecurity page!

November 2016 - I have graduated from Michigan State University with my B.S. in Animal Science in December 2014. I am currently a 3rd year Veterinary Medicine student, Class of 2018. Because vet school is extremely rigorous, we have downsized our farm prior to my start in 2014, selling off the boer herd and maintaining a very small herd of Alpines as well as a very select few pet goats. We are still raising Alpine dairy goats, meat and egg chickens, and doing produce market farming.

---
Welcome to Caprice Acres!

My name is Dona Barski. I've been working our small farm since the age of 11 or so, when I got my first goat, Daisy. I admit I was a goat 'newbie' back then, but my passion for them did nothing but grow and so I set out to learn everything I could about their health, care, husbandry, and conformation. I'm still learning with goats, and any raiser can tell you the learning curve never really ends. I can be fairly confident in my husbandry to say that I raise healthy, happy, sound goats for many purposes.

I have also enjoyed raising boer goats, New Zealand rabbits, and Silver Fox rabbits as part of the farm, but chose to downsize those aspects of the farm in preparation for Vet School starting in Fall 2014. I have also raised fancy rats and mice and several breeds/species of poultry. I am an animal person, and own/owned cats, dogs, freshwater fish, assorted cage bird species, lizards, snakes, and tortoises. I also enjoy plants too - having too many succulent plants to count. ;)
I'm happy to hear from you for any reason - from questions, to comments or inquiries. I love talking farm! :D
Caprice Acres is home to:
ADGA French (purebred) and American Alpine dairy goats
Welsh Harlequin ducks - silver and gold
Chickens - laying hens produce green/blue/white/brown eggs at 2.50/dozen.

~200 Broiler chickens/year, 2.00/lb


Broad Breasted White turkeys (seasonally)